Ranking Wines and Liquors 2016 ( WRW & S 2016)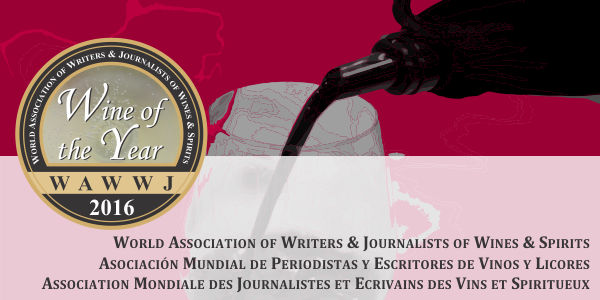 TOP 5 WINES OF THE WORLD 2016




1

Taylors St Andrews Single Vineyard Release Shiraz Clare Valley 2012

362.20

2

Noe Pedro Ximenez Vors

259.75

3

Luis Cañas Seleccion De Familia Rioja Reserva 2009

257.00

4

Anselmann Ortega Trockenbeerenauslese 2014

250.50

5

Fox Creek Reserve Shiraz Mclaren Valley 2013

238.25
---
TOP 5 SOCIETY OF THE WORLD WINE 2016




1

Sogrape Vinhos De Portugal S.A.

4441.25

2

Casa Santos Lima Companhia Das Vinhas S.A.

2630.15

3

Taylors / Wakefield Wines Pty Ltd

2624.85

4

Gonzalez Byass S.A

2437.20

5

Emilio Lustau S.A.

2386.50
---
Like every year, from the first business day of February 2016 began updating Ranking Wines and Liquors 2016 ( WRW & S 2016).
If your company has participated in Wine & Spirits international competitions, the winners, will be there, and therefore sincerely congratulate and give maximum global communication.
The World Ranking Wines& Spirits (WRW&S ®) groups the results of the contest, analyzes them and corrects any mistakes that may appear for a better search.
The Commission of International Evaluation is run by the WAWWJ Chairman. The Chairman holds the position for five years.
The Annual closure of the WRW&S occurs on January 31st each year, and after verifying all data, it is published in the WAWWJ web page. (
www.wawwj.com
)
The World Ranking Wines (WRW) of the WAWWJ only International Wine Contests on January 31st. In 2016 there were 490 World Wine & Spirit Competition (International and national), the WRW&S classified 80, only international wine contest, with more than 5 countries participating with wine or spirit. In the same year (WRW&S 2016), 680.930 wines were evaluated in different International Contest.
"Wine of the Year"- "Vino del Año"- "Vin de l´Année": For all wines of the world that reach the minimum of points established every year, the minimum is 125 points, an equivalent to four (4) gold medals in different International contests.
The winners of the "Wine of the Year" will receive a certificate or diploma, which justifies the award.
The World Ranking (WRW&S), is today, the most serious and prestigious global ranking system (created in 1996), since the living they earn, are chosen blindly by people from around the world including the Top winemakers, engineers or specialists in wines and spirits, journalists, importers, buyers, consumers qualified sommeliers and wine lovers, among others, from more than 120 countries.
The information can be used in free form, mentioning the source, not the stickers of the "Wine of the Year" which costs by company (U.S. $ 350), which is the only income of the WAWWJ (request it
Info@wawwj.com
)
Please log on to the Web page:
www.wawwj.com
and note the location of your company, its products, and variety.
Our most sincere Congratulations, and enjoy the success of your company and products.
Raul Castellani
International President WAWWJ 2016/2019
February 2016
Origin information:
World Association of Writers and Journalists of Wines and Spirits